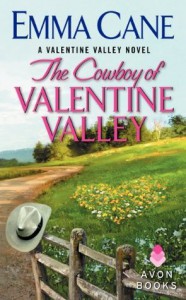 3.5 Cocktails
I began Cane's series a little backwards-I read #4 first and then The Cowboy of Valentine Valley (#3) second. Once again, I did not feel as though I was missing anything. Emma Crane is able to tell the story in such a way that the reader becomes immediately familiar with the Valentine Valley natives and all of their family members and connections.
In this story, Josh Thalberg ( the cowboy--SWOON...) and his family have been well established in Valentine Valley for generations. His grandmother and the other "widows" as they are known in this series, are a hoot. The Thalbergs own a large ranch & work closely to maintain their family legacy. This is in contrast to the way Whitney Winslow grew up. Whitney has led a priviledged and at times wild lifestyle. They say opposites attract and in this instance it is true.
Josh & Whitney have an instant attraction, however, it takes a lot for them to develop their relationship into something deeper. There are obstacles and struggles along the way. They each have something to prove to the other, their families and to themselves.
I enjoyed this one and I think other readers will too. I am not sure how one can resist a cowboy anyway!
Reviewed by Joelle for Cocktails and Books