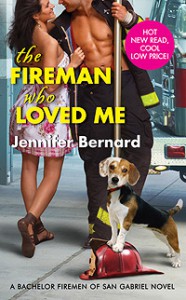 For someone who lives in Southern California, 20 short miles east of the San Gabriel Valley and the city of San Gabriel, I'm wondering if there is a Fire Station #1 and if the good men and women who worked there would find it weird if I decided to camp out in front to see if the male fire fighters are as hot as they are in this book. I'm just saying, if I've got good eye candy this close to me, I'll fire up the SUV and head west on the freeway to take a gander.
Melissa McGuire, news producer for Channel 6, is a tad upset with her grandmother, Nellie, when she's tricked into attending a charity bachelor auction to help with Fireman Widows and Orphan's fund. Nellie has her sights set on a hot fireman for her granddaughter. But Melissa is still licking the wounds that cost her the job she loved at an LA news station. But when she meet Captain Harry Brody, she soon finds they have a combustible chemistry that leaves any doorway the two of them may be near with scorch marks.
Brody has his own wounds that he's licking. His high school sweetheart/wife/ex-wife left him with some pretty deep scars, leaving Brody to believe he's not good enough to be a husband to any woman or subject her to carry his child. He pours himself into his job and his firefighters, keeping a calm resolve that helps him when he's in a fire. But the minute he's with Melissa, he loses that calm and finds himself fighting with this woman and trying to control his lust.
Melissa and Brody have some pretty significant self image problems to get through before they can actually get to a place where they can have a meaningful relationship. Add to that their stubborn streaks preventing them from having a meaningful conversation about their "issues" and that leaves them with several weeks of heartbreak.
The firefighters that make up Station 1 are a group of men that have you begging to learn more about them. They have a brotherhood that appears to be quite tight (although I do wonder about the two women that work there) and had you wishing for more scenes where they were all together.
A great start to the series with hot firemen, sassy female characters and just the right mix of sex and emotional turmoil.